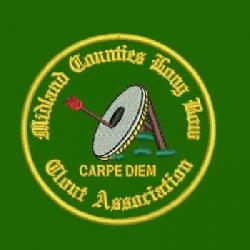 About the Midland Counties Long Bow Clout Association Shop shop
Merchandise available to purchase online.
The Midland Counties logo will be embroidered on the RIGHT BREAST of the garments you order. You will then be given the option to have your name or initials embroidered in yellow (same as in the club logo) thread on the RIGHT BREAST under the club logo of the garments.
If you are a LEFT HAND USER and would like the logo on the LEFT BREAST - PLEASE PLACE YOU ORDER AND THEN - EMAIL (info@cceuk.org) OR RING US (015394 41360) with your order reference number so that we can amend this for you.